Mujercitas / Little Women (Paperback)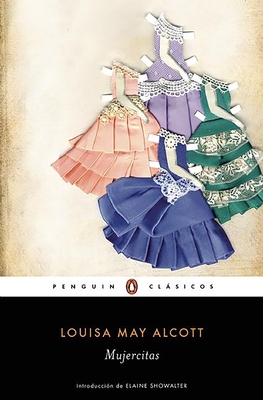 $12.95
usually available in 1-5 days
Description
---
Nominada por los estadounidenses como una de las 100 mejores novelas en la serie de PBS The Great American Read

Mujercitas, el clásico de Louisa May Alcott ambientado en la guerra de Secesión, fue publicado en Estados Unidos en 1868. Han pasado casi ciento cincuenta años desde entonces, pero la complicidad de las cuatro hermanas March, quienes a través de sus gestos y palabras resumen el espíritu crítico de una época, sigue siendo fuente de inspiración y disfrute para las generaciones de lectores que se asoman a las páginas de esta fascinante obra.

Elaine Showalter, catedrática de la Universidad de Princeton, está considerada una de las voces más representativas de la crítica literaria feminista. En su brillante introducción analiza en detalle las influencias de la autora, así como el impacto de Mujercitas en la obra de escritoras de la talla de Simone de Beauvoir, Joyce Carol Oates o Cinthya Ozick.

«Si fuese un chico, me escaparía contigo y lo pasaríamos en grande, pero soy una pobre chica y he de comportarme con propiedad y volver a casa.»

ENGLISH DESCRIPTION

Little Women is a novel by American author Louisa May Alcott (1832–1888), which was originally published in two volumes in 1868 and 1869. Alcott wrote the books rapidly over several months at the request of her publisher. The novel follows the lives of four sisters—Meg, Jo, Beth, and Amy March—detailing their passage from childhood to womanhood, and is loosely based on the author and her three sisters. Little Women was an immediate commercial and critical success, and readers demanded to know more about the characters. Alcott quickly completed a second volume, entitled Good Wives. It was also successful. The two volumes were issued in 1880 in a single work entitled Little Women. Alcott also wrote two sequels to her popular work, both of which also featured the March sisters: Little Men (1871) and Jo's Boys (1886). Although Little Women was a novel for girls, it differed notably from the current writings for children, especially girls. The novel addressed three major themes: "domesticity, work, and true love, all of them interdependent and each necessary to the achievement of its heroine's individual identity." Little Women "has been read as a romance or as a quest, or both. It has been read as a family drama that validates virtue over wealth", but also "as a means of escaping that life by women who knew its gender constraints only too well". According to Sarah Elbert, Alcott created a new form of literature, one that took elements from Romantic children's fiction and combined it with others from sentimental novels, resulting in a totally new format. Elbert argued that within Little Women can be found the first vision of the "All-American girl" and that her multiple aspects are embodied in the differing March sisters.
About the Author
---
Louisa May Alcott (1832-1888) nació en Germantown, Pennsylvania, y tras pasar buena parte de su vida en Boston, murió en Concord, Massachusetts. La energía y la independencia que ya tenía desde su infancia la acompañaron a lo largo de toda su vida y la llevaron a aceptar distintos empleos para poder ayudar económicamente a su familia. En 1854, Alcott publicó su primer libro, Flower Fables, al que siguieron más de treinta novelas y colecciones de relatos. Pero su nombre iría siempre unido al de Mujercitas, una novela que escribió entre mayo y julio de 1868 por encargo de sus editores.
Praise For…
---
La crítica ha dicho...

«Hay un libro en el que creí ver reflejado mi futuro: Mujercitas, de Louisa May Alcott... Yo quería a toda costa ser Jo, la intelectual. Compartía con ella el rechazo a las tareas domésticas y el amor por los libros. Jo escribía, y para imitarla empecé mis primeros cuentos cortos.»- Simone de Beauvoir, Memorias de una joven formal

«Hallé consuelo en los libros. Curiosamente, fue Louisa May Alcott con Mujercitas quien me procuró una perspectiva positiva de mi destino como mujer.- Patti Smith, Éramos unos niños

«Hasta que no lo leí no fui consciente de que las novelas que tanto me gustaban tenían un autor, y que ese autor podía ser una chica. Recuerdo que entonces vivíamos en Palma de Mallorca. Yo tenía nueve años. Jo March escribía relatos y yo también quería hacerlo. Fue entonces cuando empezó todo.». Elvira Lindo

«Mujercitas está en la genealogía que intenta construir una épica de lo íntimo. [...] La literatura no solo representa la realidad, también la construye, y esa es una de las razones por las que estaría bien releer Mujercitas con sentido crítico: nos estaríamos releyendo a nosotras mismas.»- Marta Sanz

«Meg, Jo, Beth, Amy... A los nombres de las heroínas de Mujercitas les ha pasado lo mismo que a los Beatles. John, Paul, Ringo, George... Siguen ahí porque ya son parte de lo que fuimos y somos.»- Cristina Fernández Cubas, escritora

«Las lecciones de vida que van aprendiendo las cuatro hermanas de este libro me siguen pareciendo, tantos años después de haberlo leído por primera vez, el mejor retrato de lo que significa crecer.»- Pilar Reyes, editora

«Hay que elegir entre no hacer nada o pelear por ser libre. Y las mujeres más. Eso fue lo que me enseñó Mujercitas.»- Rosa María Calaf, periodista

«Después de leer Mujercitas era imposible no querer ser escritora, leer en voz alta, vender el pelo y entregar el dinero a una buena causa.»- Pilar Adón, escritora

«Como a Jo, los libros me salvan.»- Concha Quirós Suárez, librera

«No puedo evitar pensar en la melena de Jo como la esencia misma de Mujercitas.»- Sara Morante, ilustradora

«Si usted me lo permitiera, señora March, me gustaría ser una hermana más, la quinta mujercita.»- Jenn Diaz, escritora

«Hay que leer Mujercitas al menos dos veces en la vida: de joven, y de mayor.»- Elena Ramírez, editora

«Yo aún quiero ser Jo.»- Colita, fotógrafa

«Estas chicas son tan de carne y hueso que, cuando me cortaron el pelo, a mí solo me consolaba pensar que era como Jo. Es lo que tienen las historias universales, que se te meten en casa.»- Marian Izaguirre, escritora

«Hija... siempre te dije que eso de querer ser Jo era mal negocio.»- Bruna Gorrone, madre de la editora Silvia Querini

«Mujercitas...: la primera vez que una siente la pertenencia, el género, la identidad.»- Lara Moreno, escritora

«Mujercitas fue la lectura que despertó en mí la nostalgia de una infancia que no había vivido.»- Miriam Tey, editora

«Me hubiera encantado ser la quinta hermana y pasar una Navidad con ellas.»- Gemma Barrufet, librera

«Seguramente nos identificaremos con algún personaje de Mujercitas. Sus protagonistas, todas muy distintas, reflejan en estado puro la esencia de ser mujer.»- Nelly Gonçalves, librera

«Cuando leí Mujercitas me dije: lo tenemos difícil, pero qué suerte tengo de ser mujer...»- Pilar Beltrán, editora

«Una oportunidad maravillosa para viajar hasta este memorable hogar del siglo XIX en el que, a pesar del dolor, nunca falta un trozo de pastel caliente y un hombro amigo sobre el que llorar tus penas.»- Cecilia Frías, El Cultural

«Un precioso libro a la altura del más vivo recuerdo de un lector nostálgico, y lo bastante atractivo para fidelizar a una generación de nuevos lectores que no se hayan acercado al título con anterioridad.»- Sonsoles Sánchez-Reyes Peñamaría, Zenda Libros