Telex from Cuba: A Novel (Paperback)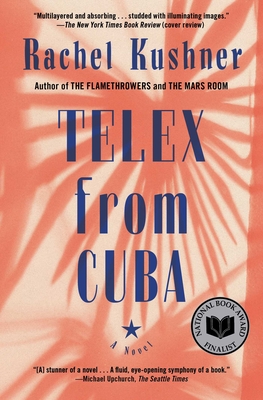 $16.00
usually available in 1-5 days
Staff Reviews
---
Viva La Revolucion! Venceremos! This is the battle cry of those Castro boys who come down from the mountains with their band of guerillas to upset the sugarcane cart of whatever regime is in power at the time. There are 26 American families living in Cuba in the late fifties. Much of this story is told by two children who are growing up in the American colony of Preston. Life here is an artificial existence of elaborate entertainment for the wives and kids of the United Fruit Co. employees. But these kids are catching on to the real and huge cost of their lifestyle here. They begin to understand that violence and brutality isn't just what comes down from the hills. It is complicated and dangerous, and their Tips For Anglos brochure provided by Unifruitco would not guide them through the political upheaval of the late 50?s.
This is one of few novels set in revolutionary Cuba. I was drawn to it because of an interest in Cuba, but I stayed until the end because Telex From Cuba is worth the reading.
~Dana
— From
Dana
July 2008 Indie Next List
---
"Set in the last days of Cuba's golden age (at least, for American businessmen), this saga, at once familial and national, chronicles the drama of Castro's coming coup upon a family stuck in the center of an unstoppable storm. Kushner's storytelling -- as detailed as it is colorful; as truthful as it is fictional -- reads like a vast mural in prose, covering the reader's imagination with pages of forceful action and forthright emotion."
— Steve Shapiro, Rainy Day Books, Fairway, KS
Description
---
Finalist for the National Book Award for Fiction

The debut novel by New York Times bestselling author Rachel Kushner, called "shimmering" (The New Yorker), "multilayered and absorbing" (The New York Times Book Review), and "gorgeously written" (Kirkus Reviews).

Young Everly Lederer and K.C. Stites come of age in Oriente Province, where the Americans tend their own fiefdom—three hundred thousand acres of United Fruit Company sugarcane that surround their gated enclave. If the rural tropics are a child's dreamworld, Everly and K.C. nevertheless have keen eyes for the indulgences and betrayals of the grown-ups around them—the mordant drinking and illicit loves, the race hierarchies and violence.

In Havana, a thousand kilometers and a world away from the American colony, a cabaret dancer meets a French agitator named Christian de La Mazière, whose seductive demeanor can't mask his shameful past. Together they become enmeshed in the brewing political underground. When Fidel and Raúl Castro lead a revolt from the mountains above the cane plantation, torching the sugar and kidnapping a boat full of "yanqui" revelers, K.C. and Everly begin to discover the brutality that keeps the colony humming. Though their parents remain blissfully untouched by the forces of history, the children hear the whispers of what is to come.

Kushner's first novel is a tour de force, haunting and compelling, with the urgency of a telex from a forgotten time and place.
About the Author
---
Rachel Kushner is the bestselling author of three novels: the Booker- and NBCC Award–shortlisted The Mars Room; The Flamethrowers, a finalist for the National Book Award and a New York Times top ten book of 2013; and Telex from Cuba, a finalist for the National Book Award. She grew up in San Francisco and lives in Los Angeles.
Praise For…
---
"Multilayered and absorbing... Studded with illuminating images....Kushner has fashioned a story that will linger like a whiff of decadent Colony perfume."
— Susann Cokal, The New York Times Book Review (cover review)
"With its sharp detail and precisely drawn characters, Telex from Cuba offers a compelling look at a paradise corrupted."
—People
"A riveting drama. Given the recent Cuba headlines, Kushner's tale, passionately told and intensively researched, couldn't have come at a more opportune time."
—Publishers Weekly
"Castro's coup serves as a riveting backdrop...gorgeously written."
—Kirkus Reviews (starred review)
"Kushner has written a gripping tale of what it was like to live through a momentous time. It is a powerful, haunting look at the human side of revolution."
—Booklist
"A pure treat from the cover to the very last page. It's the kind of thing you should stock up on to give sick friends as presents; they'll forget their arthritis and pneumonia, I promise, once they walk into a land that's gone now, but not yet quite forgotten: Cuba in the last few years before
Fidel Castro
took over…. 'Lost' and 'Gone,' as
F. Scott Fitzgerald
wrote in the early pages of "The Last Tycoon," lost and gone. A world we'll never see again, any part of it. Rachel Kushner uses her considerable powers to bring it back for us, one last time."
—Carolyn See, Washington Post Book World
"[A] lush, meticulous, cinematic debut novel…. Kushner's vivid renderings of country clubs and cane shacks are due in no small part to her access to primary sources."
—Megan Deem, Elle
"Kushner brings both a reporter's meticulous research and a novelist's flair for the fantastical to her examination of Cuba before the revolution….she illuminates both the natural beauty and savage inequities of an island constantly on the cusp of lawlessness….a snapshot from a long-gone era."
—Entertainment Weekly
"Kushner fills the novel with enough vivid details to make readers feel as if they are on the island at the zenith of American prosperity…. Kushner's evocation of the Americans' decline is fresh and compelling. She takes us to a place and time we've seldom visited before."
—David Abrams, San Francisco Chronicle
"The bygone American world in 1950s Cuba is brought vibrantly alive … ambitious…. Kushner is an evocative writer with a cinematic eye for telling detail."
—John Marshall, Seattle Post-Intelligencer
"For all its political currents,
Telex
never reads like a lesson. This is largely because the novel's ideas are expertly blended into its story line, which gains momentum with thrillerlike passages, stunning descriptions and a compelling cast….[
Telex from Cuba
] elegantly weaves together a gripping story of individual and their lives leading up to one of the most notorious revolutions of the twentieth century."
—Jamie L. Parra, Time Out New York
"In the passages set among the American expatriates, Kushner displays a keen sense of the detail that reveals human nature. With its depictions of colonial privilege, excess and hubris,
Telex from Cuba
seems in the tradition of colonial novelists that includes Graham Greene, W. Somerset Maugham, Evelyn Waugh and William Boyd."
—Chauncey Mabe, South Florida Sun-Sentinel
"[A] stunner of a novel…. A fluid, eye-opening symphony of a book….Kushner's period detail is terrific, and her characters — stiff-necked American bosses; their more sympathetic, acerbic or fluttery wives; their wide-eyed offspring for whom Cuba, in some cases, is the only home they've known — are finely drawn….. A last master stroke is the inclusion in the cast of a Havana exotic dancer, Rachel K, who has clandestine connections with every power player in the book. It's a bold piece of artifice that works: a trickster surrogate who lets author Kushner vicariously savor the excess and glamour of the era she depicts, while also indicting it."
—Michael Upchuch, Seattle Times
"Kushner has an eye for detail and writes so engagingly readers may not even realize they're getting a history lesson."
—Christian Science Monitor
"Rachel Kushner's debut novel richly portrays the life of corporate Americans who lived high and mighty in Cuba just before the crush of Castro's revolution….written with much skill, beauty and wisdom."
—David Loftus, The Oregonian
"Rachel Kushner intricately and intelligently weaves a multilayered quilt of nationalities and social classes, adolescence and adulthood, even good and evil… Ms. Kushner's richly detailed tome filled my mind with clearer pictures of my motherland."
—Mario Tarradell, Dallas Morning News
"A lush novel set in 1950s Cuba when American families who ran sugar and nickel operations were caught up in Fidel Castro's revolution."
—Chicago Tribune
"A terrific novel … memorable … the kind of book that will make Castro glad he retired so he can have time to read books like this."
—Michael Ventre, MSNBC.com
"This is an astonishingly wise, ambitious and riveting novel set in the American community in Cuba during the years leading up to Castro's revolution—a place that was paradise for a time and for a few. The first novel to tell the story of the Americans who were driven out in 1958, this is a masterful debut… Kushner's novel is a tour de force, haunting and compelling with the urgency of a telex from a forgotten time and place."
—Ellen Shapiro, Times Union (Albany, NY)
"Rachel Kushner's first novel is a work of great care and research, directed at recreating a place that history has erased from the map…. With impressive fluency, Kushner speaks in the voices of a series of latter-day colonialists…. Kushner is adept at profound description and real suspense."
—Carla Blumenkranz, Bookforum